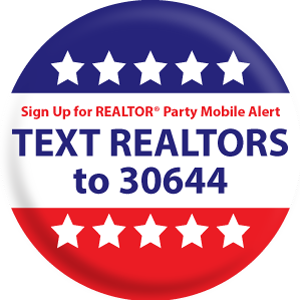 About Calls for Action
When Congress is considering legislation that affects the real estate industry, NAR calls on its members to act. Simply by contacting Members of Congress through an e-mail or a phone call, which ensures that your business remains strong. NAR members join together and speak with one loud, powerful voice.
Sign Up For REALTOR® Party Mobile Alerts
Enter your mobile phone number and your name in the registration form to start receiving REALTOR® Party Mobile alerts. NAR will send you short text messages when they need you to take action on important real estate issues (usually only three to five times per year). If you have questions about the REALTOR® Party Mobile Alerts, please contact comments@realtoractioncenter.com.
State & Local Advocacy
The REALTOR® Party is a powerful alliance of REALTORS® and REALTOR® Associations working to protect and promote homeownership and property investment. The REALTOR® Party speaks with one voice to advance candidates that build strong communities and promote a vibrant business environment.
The REALTOR® Party is effective at all levels of government because of its grassroots strength. That strength is exhibited in advocacy as well as community involvement. The REALTOR® Party works hand in hand with the REALTORS Political Action Committee (RPAC).
NAR provides a wide variety of resources to foster and harness the grassroots strength of the REALTOR® Party.